E-Card Benefits
Professionally designed e-cards from Holiday Classics help you create a memorable experience for customers and clients while utilizing an effective marketing tool for your business. Through the combination of animated photos and wording, our e-cards become a mesmerizing representation of your business.
Foster long-lasting relationships with a unique holiday greeting they'll never forget.
Values and benefits associated with e-cards include:
A memorable experience for customer and clients
An opportunity to drive brand awareness for your business
An environmentally friendly greeting card option
An efficient and cost-effective marketing opportunity
Measureable metrics for analyzing results
A great way to build relationships and establish trust
E-Card Collection
Classic E-Cards
Your e-card will include:
Approximately 30 seconds of animation
An audio/music track
An environmentally friendly greeting card option
Branding with your colors and high-res logo
Portrait and/or landscape photos
Your choice of personalized holiday message
Website link at the end
Creation of the HTML webpage (hosted on your website)
Customized URL (e.g. www.yourdomainname.com/happy-holidays; www.yourdomainname.com would be the actual domain of your website)
Employee Expressions E-Card
Your Employee Expressions E-Card will be branded with your colors and high-res logo and personalized with your choice of holiday message. The e-card will also include an automusic track, portrait and/or landscape photos and a link to your website at the end. We provide an HTML webpage for the e-card, which is hosted on your website. You can even customize the URL.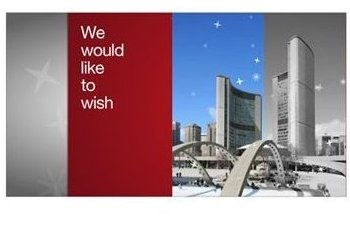 Add-On Services
E-mail Delivery Service

- You provide the appropriate information to our delivery service, which sends the e-cards.
- Statistic tracking is provided. You can view delivery results such as bounces, reads and clicks.
- Email graphic button (optional) can be placed within the email as a link to the e-card.



Temporary Hosting Service

- Your E-card will be hosted until January 2010.
Please call 800.446.4510
for more information on these services.